About Rugeley Snooker Club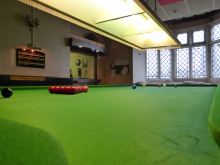 Rugeley Snooker Club, formerly Rugeley Billiards Club is a long established private club, run by volunteer members for its members.

The club has a relaxed and friendly atmosphere and is available for all of it's full members 24 hours a day, 7 days a week, 365 days a year.

We provide a licenced, well stocked bar on weekdays between 8:00pm and 11:00 pm, for our members use.

Our Volunteers

Rugeley Snooker Club is run solely by a very small group of committee and trustees, who are all unpaid volunteers, so every important decision is made by a group of people who are empassioned about the club, it's history, it's future and it's home, rather than a large corporate owner, meaning that decisions are always made in the interests of the club and its members. All trustees and committee members are volunteers, and all profits and moneys received go into the running costs of the club and the upkeep of it's premises.
Volunteering
If you would like to help volunteer with the running of the Club, it's upkeep or could help with our building and grounds- we would always welcome your help and any input, however large or small would be appreciated.
If you think that you would be able to help, please email info@rugeleysnookerclub.co.uk, or drop us a message on facebook messenger.

Committee
There will always be a committee member available in the bar during opening hours, and members are encouraged to discuss any matters or ideas with us. The committee and trustees meet on a monthly basis to discuss these matters.

Teams
If you are interested in the competitive aspect of snooker, the club would also like to build a team that will compete in the local leagues. Please contact a committee member for details.